Vinyl sticker decal set, NEW, various 928
$100.00
Vinyl sticker decals for various early 928. Set of 14.
NEW reproduction, high-quality. Thermal printed on thick calendar vinyl, clear laminated for added protection.
Shell factory fill werkfüllung
DOT 3 brake fluid fill
Coolant expansion tank
Bosch 'blue' coil, 12 Volt & TCI
Power steering reservoir, ZF & ATF type
Radiator part number 928 106 023 15
Brake booster, Ate
E1 E2 'Euro' RoW regulation
Oktan octane rating
Unleaded fuel only (gauge panel)
Unleaded fuel only (inner rear 1/4 window)
Emergency spare tire
Faithful replicas of vintage Porsche 928 stickers!
NLA or never available or new is not the same from Porsche P/N 91170100100, 91100654100, 92800651101, ref 92860250300, ref 92834701501, ref 92810602315, ref 92835502304, 93000655100, 211000258A, 411000263, ref 92836203002
Available as a set only, not sold individually
19 in stock
You may also like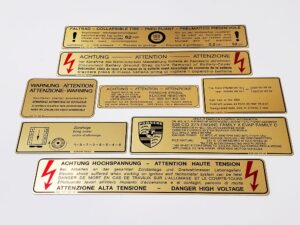 Gold metal sticker set, US or RoW, NEW, 78-only

Satin gold metal stickers for 78-only US or RoW 'Euro'. Set of 8.
NEW reproduction, high-quality. Photo-etched on thick satin gold metal. Anodized coating for added protection.
High voltage
Firing order
Emission/ignition timing, US or RoW
Fan warning
Intensive washer fluid
Tire pressure, US or, RoW
Battery cover
Spare tire pressure
The best reproduction metal stickers available!
NLA or new is not the same from Porsche P/N 92870116302, 92800610500, 92800610105, 92800610300, 92870115102, 9287015302, 92800650800, 92800650500, 9287015502, 92870115702
$

225.00
Related Products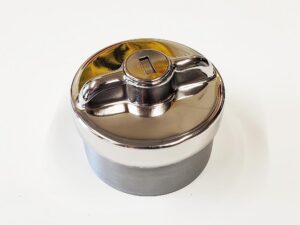 Stainless steel gas cap, 78-only
Early stainless steel fuel filler gas cap, 78-only.
Excellent condition, polished. No key.
Uber Rare!
NLA from Porsche P/N 92820190301 (ref 92820190302)
$

400.00