Porsche CR radio knob set, NEW, 78-82
$125.00
Porsche CR cassette radio knobs, 78-82. Set of 4 – front outer & rear inner pairs.
NEW, excellent condition.
Unique to the 928 but will fit other vintage Blaupunkt 2-post radios.
Never available separately from Porsche, ref radio kit P/N 92864512100 (NLA).
10 in stock
You may also like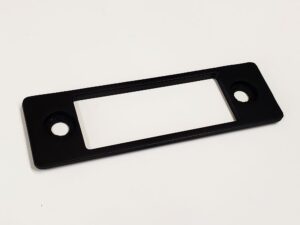 Porsche CR radio trim plate bezel, NEW, 78-82

Fulfillment date: 2 weeks
* See Terms of Service for more details
Porsche CR cassette radio trim plate bezel, 78-82.
NEW reproduction, 3D printed in durable nylon plastic. Painted satin trim black.
Unique to the 928 center console w/a 2-post radio.
NLA from Porsche P/N 92864515100
$

100.00
Related Products
Sale!
Bosch 7″ H4 headlight set, 78-only US
Early-78 type headlamp headlight housings with Bosch 7″ H4 lenses. Set of 2.
Uses headlamp leveling like RoW 'Euros', and has chrome rings without beam alignment holes.
Excellent condition. New lenses and bulbs, used housings and chrome rings. Mounting hardware included.
RARE and special set!
Early-type is NLA from Porsche P/N 92863111300 (ref 92863111301), 92875032702 (ref 92875032703), 90163110203 (ref 90163110206)
$

425.00