View cart
"Instrument panel rubber mount, gauge cluster, All 928" has been added to your cart.
Instrument panel offset spacer, gauge cluster, All 928
$35.00
Offset spacer mounting bracket for instrument panel gauge cluster to 'pod' binnacle, all 928.
Very good condition.
NLA, never available separately from Porsche.
3 in stock
You may also like
Related Products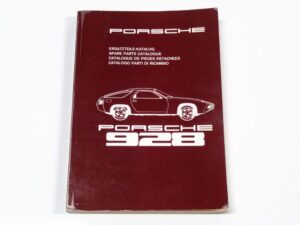 Porsche 928 spare parts catalog, 1977
THE original 928 spare parts catalog, published in February 1977 before Porsche microfiche & PET.
The parts diagrams are outstanding! Original option codes and part numbers.
German, English, French, Italian languages. 330 pages. Measures 8 1/2″ x 11 1/2″
Excellent condition, tight binding, very minor wear on jacket.
This is extremely rare and an amazing piece of Porsche 928 history!
$

450.00