Early-type toolkit set, 79-83
$600.00

Fulfillment date: Sept 15, 2022 or sooner
* See Terms of Service for more details
Original and complete early-type tool kit, 79-83.
5 'Selected-Special' wrenches/spanners, marked 'Made in W-Germany'
Yellow-handle screwdriver w/3 interchangeable drivers, marked 'Made in W-Germany'
Klein 21mm sparkplug wrench w/handle
Hapewe plier
Tow hook, (early coarse-thread 15mm dia, P/N 92872210103)
Very good original condition, plating wear typical with age.
NLA from Porsche (compare with new from Porsche P/N PCG92872110 (ref 92872100506), but it's not even close to the same)
You may also like
Sale!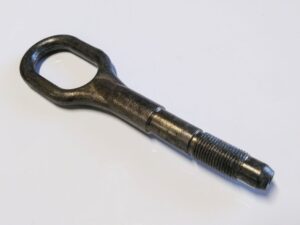 Towing hook eye, fine thread, 78-only
---
Tow hook eye, fine thread, 78-only.
Original finish, some plating intact. Slightly bent, does not affect fit or function.
NLA from Porsche P/N 92872210102
$

150.00
Related Products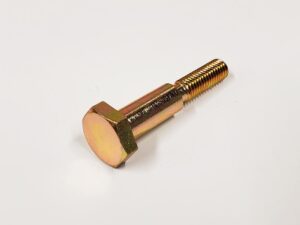 Tensioner roller arm bolt, NEW, 78-81
Bearing shoulder bolt for timing belt tensioner roller carrier arm, 78-81.
NEW, custom-made reproduction. High quality, black zinc plated. Recommended replacement item for a timing belt/tensioner service!
NLA from Porsche P/N 92810557000
$

50.00