Early-type toolkit set, 79-83
$600.00
Original and complete early-type tool kit, 79-83.
5 'Selected-Special' wrenches/spanners, marked 'Made in W-Germany'
Yellow-handle screwdriver w/3 interchangeable drivers, marked 'Made in W-Germany'
Klein 21mm sparkplug wrench w/handle
Hapewe plier
Tow hook, (early coarse-thread 15mm dia, P/N 92872210103)
Very good condition, original finishes. Coated in light oil to prevent further corrosion.
NLA from Porsche (compare with new from Porsche P/N 92872100506, but it's not even close to the same)
1 in stock
You may also like
RARE Porsche yellow screwdriver tool set

Fulfillment date: Mar 15, 2022 or sooner
* See Terms of Service for more details
RARE yellow Porsche screwdriver w/short and long drivers, set of 3. Handle is marked 'made in W Germany'.
Very good original condition. Handle has no cracks, plating wear typical with age.
Period-correct for mid-70's to late-80's Porsche 911 Carrera, 928, 930 Turbo, 964.
NLA from Porsche P/N 91172120100 (ref 91172110702)
$

225.00
Related Products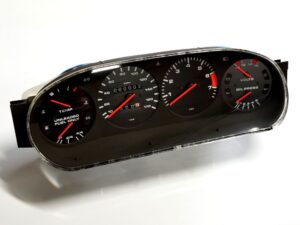 Instrument panel gauge cluster, NEW, 78-only US

NEW instrument panel gauge cluster, 78-only US. Imperial 170mph speedometer, miles odometer. Date stamped 5-78.
NOS, NIB, perfect condition.
Uber rare, impossible to find!
NLA from Porsche P/N 92864111530

Odometer can be set to match your 928 upon request. Please specify in order notes at checkout.

$

1,500.00