Reading through Brian Long's Porsche 928 book, I saw a striking Guards Red show car used at the '77 Geneva Auto Salon. You may remember the photo with Ferry Porsche posing on its hood, with the custom bright white Recaro seats. What a cool car with clean lines with an uncluttered appearance! This is what piqued my interest for the early cars.
I became curious if this car still existed. Did Ferry own it? Is it still in the family, stored in a garage up in the hills of Zell am See? In the meantime, I had this crazy idea to find an early 928 in need of restoration (not hard to do), and restore it as a replica. I wanted a tribute to the Geneva Show Car and early 928's!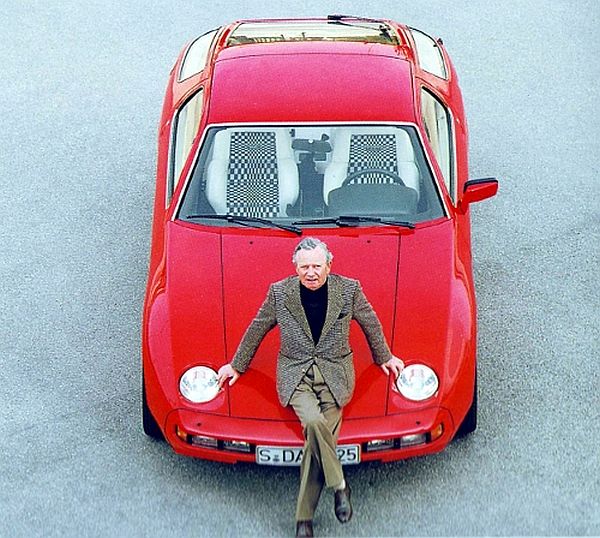 Just following the Boston Sharks Party '10, scanning Rennlist at Carl's (Ispeed) house, I came across an Ebay ad for a Guards Red OB. I say to Carl, "ya know, I've always wanted to restore an OB." I tell him about my Geneva car idea. He replied bluntly, "no one knows what the hell is a Geneva show car!?" Looking a little more closely at the ad revealed a car with an early VIN. I thought, this is interesting, but really didn't have any idea what I was looking at. So I decided to follow it and starting digging through my 928 books.
I began to learn about the early 928, and its place in Porsche's history...
Not long after, I found a great early Road & Track article by Joe Rusz. It was their first driving test of the 928. And in that article was a front-on shot of a shiny new red 928, looking really good posed in front of a French sunset. What if the car in the photo what the same car for sale on Ebay? License plate read S-CX 2137. Days later the VIN checked out to be an early car, and I prepared to make a deal with the seller. Out of nowhere, and literally without asking, the seller sends me a cell photo of a Porsche document. On that letter from Porsche read Factory Company Car (S-CX 2137). My heart skipped a beat. This was the Road & Track car! We made a deal, and I took delivery of Number Six a month later. I was hooked.
Just when I thought I had the oldest 928...
In my seemingly endless search for new old stock and hard-to-find early 928 parts, I find myself hopelessly addicted to scouring Craigslist and Ebay. I'm attracted to any ad that reads 78 Euro, and call on most everyone I see. Most often I ask for the VIN. Sometimes sellers have it and are kind enough to offer it.
So one day, my friend Chris (Landseer) sends me a lead for a 77 928. Typically, I've found 77 to be a typo, but was particularly interested in this typo because the ad also read No AC. Don't see that too often. I leave a message with the seller. Hours later, the seller calls. Out of habit, my first question, "may I have the VIN?" He readily offers up 9288100011. I can truly say I wasn't expecting to hear what I just heard. I asked him to repeat it, to which he did.
See, my #6 is VIN 9288100016, so I knew right away what I may be looking at if the seller was legit. I knew that four cars earlier than mine were painted Gran Prix White. So I casually asked the seller the car in question's color. His response equally met my hope. I was ecstatic!
I pretty much on-the-spot offered to buy the car. The car that was the first pre-production prototype press car Porsche 928. However, I needed to do my due diligence. In the case of a car like this, it's pretty straightforward. I asked the seller to verify the engine, and within a short time, had a match. Numbers matching.
I'd already documented all 12 of the press cars, so a quick search revealed an early white car with license number S-CX 2132. I think we have a match. Took delivery of Number One two days later!