After years of intense development, the Porsche 928 was ready to put on display for the world to see. Porsche planned big and started with a well-prepared 928 introduction for automotive journalists in France, February 1977, where the first pre-production press cars were very well received. The following month, they set their sights on the 1977 Geneva Auto Salon for a worldwide introduction. Geneva had been their preferred venue for many years as it was always the first event of the auto show tour season.
For this purpose, Porsche pulled out all the stops and prepared a spectacularly bold one-off show car.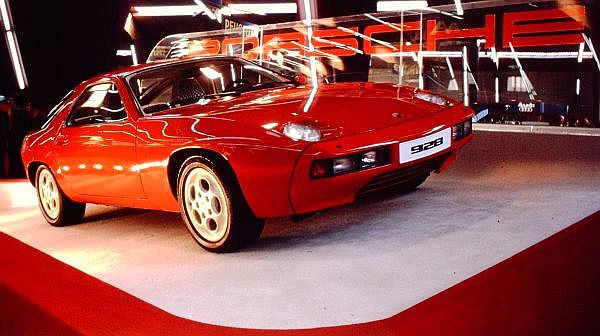 Its exterior was colored Guards Red (Indischrot, India Red). This was a strong choice of a relatively new color Porsche developed in 1974. Additional touches were deviations from stock with painted white 'phone dial' wheels and engine 'spider' intake, and polished stainless steel window trimmings.
The pièce de résistance for this show car came in the form of its strikingly contrasted interior. Trimmed in white leather cowhide and long cut-loop black carpet, it set the stage for the ultimate contrast – the black & white chessboard velour seat and door treatments.
This avante-garde op art inspired material, Pasha as it has come to be known, was Porsche's statement that not only were they deft at engineering, but fresh with style and innovation. This show car was in Geneva to send this message and to show what Porsche engineers could do with a clean sheet of paper.
For years, Porsche used similar red and white combinations at Geneva. Being the colors of the Swiss flag certainly had a small part in it, but they put together this tour de force show car in 1977 with something entirely different in mind. And the Porsche 928 would go on to win the European Car of the Year award in 1978.
So what do we know of this special show car? Quite a lot as it turns out. But this was not always the case. Going back several years, this show car was a myth to me, with the only known photos published in Brian Long's Porsche 928 book. So mythical it was that it inspired me to dig deep into early 928 history, which ultimately led to acquisition of the first and sixth pre-production press cars used in France. Following extensive research, the stories of the 928 press cars and the Geneva Show Car were revealed.
It was a purpose-built 928, assembled completely by hand before there was a production line, ca. February through mid-March 1977, finished in time for its show tour. The reason I say show tour is because it was also displayed later that fall at the Frankfurt Motor Show. Also interesting is that it was built nearby the first batch of press cars used in France the month before.
Not only for show but for driving as well, it was registered in Stuttgart as a Porsche werks car. Based on what we now know about press car license numbers, its plate number S-DA 7325 suggests it was registered after its show tour, later in '77, or early '78. Following its tour duty, it was seen in marketing photos, and a well known photo with Ferry Porsche in his classic pose on the hood suggested it also may have been an executive car, possibly for Ferry himself. You can clearly see the seats were refitted with custom Recaros, and the glaringly white dash was changed to black.
And that is most of what was known about this special 928. In the back of my head I couldn't shake the begging question, was this car still out there? It gave me peace to imagine it gently tucked away and hiding out in an undisclosed garage with the Porsche family in Zell am See, Austria. The alternative lost to the ages scenario was just unthinkable to me. So I patiently awaited for its return.
In early 2015, I received an email from Pedro Diogo, a collector of special Porsche from Portugal. He made contact because of my interest and research in the early 928 and was seeking information about a recent acquisition. His first inquiry was about an identification plate stamping where Typ 928 was incorrectly stamped as Typ 982. I confirmed this was an anomaly, and at the same moment closely reviewed and cross-referenced what I suspected was the correct serial number for the Geneva Show Car. It's likely that Pedro was already well aware of what he had found, with 928 Geneva Car as the title subject of our correspondence, however early dialog with him was a little cryptic and a slow spill of emails began to reveal his full intent. He had tuned me in with the serial number stamping, and then proceeded to take me over the edge with never-before-seen images of the interior with the unmistakable Pasha Recaro seats, and finally with a full crescendo photo reveal of the car as found.
Pedro had uncovered the legendary Geneva Show Car! When I think about how this must have felt for him, I get literal chills. Imagine how his stomach turned with anticipation and excitement, like the first climb, apex and drop of a roller coaster. Unearthing this historic legend was of massive importance to the world of Porsche, and Pedro was in for the thrill-ride of his life. He set his sights on a plan to display what he discovered, for a new debut of the Geneva Show Car.
Pedro's background is in architectural preservation, and honoring the history of objects is an important element of his work. As such it greatly appealed to him to display the car in its most natural form as found. The car itself was very well preserved given its history and travels. It still wore its original paint and special interior, which in itself is quite amazing, and retained its characteristic show car features like the white painted wheels still shod with original Pirelli P7's. And later added were the colors of the Portuguese flag on its hood corner, revealing its path from Stuttgart to where it spent a large portion of its life as a banker's car, used to commute between Austria and Portugal.
Pedro reached out to Johnny Tipler, a journalist friend from the UK with whom he had past collaborated for a feature article about 928 hillclimbing. He shared his excitement for his latest acquisition, and in short time Tipler was on the scene in northern Portugal to capture this monumental event. Pedro's staged presentation of the car was perfectly understated and ironic. A derelict factory tagged with colorful graffiti was used as the backdrop to reflect the once famous show car's current form. He shared with Tipler how he found the car while looking through classifieds for 928 spares as he often did. It was listed as a parts car. It is a sad irony to find these once great cars in such places, but very cathartic to save them. To find such a significant piece of Porsche history among the ruins of classifieds had to be an emotional experience for him. I can imagine his sense of relief and thrill when he pulled this old girl back from the brink of demise.
With Tipler's article in the bag, 911 & Porsche World magazine staggered a release to build momentum, first with a single photo teaser in their October 2015 issue titled 1977 Geneva Show 928 Discovered, then with the entire story in January 2016 titled Geneva 928 Found. Pedro had given the old show car its new debut and it was a good one!
Throughout his tenure with the car, I was fortunate to have continued dialog with Pedro about his saga. His most grand aspirations were to restore the show car to its "former glory", as he put it, and to display it at the museum in Stuttgart for the Porsche 928's 40th Anniversary in 2017. This concept presented him with a serious dilemma as full restoration did not mesh with Pedro's preservation ideals. It became a real challenge for him to decide how to approach this historically significant object. Ultimately, he made the decision to keep the car as found. While discussing the car and his approach to it, I expressed my desire to acquire the show car for my early 928 collection and was given the opportunity to make an offer. However, with overseas distance in between and no first-hand review of the car, my respectable offer was not enough to convince Pedro to part with the old girl.
Word of the discovered Geneva Show Car circulated through the Porsche enthusiast channels. You all know how close-knit our world is. Within minimal degrees of separation, an interested collector named Christophe Schmidt emerged from Germany and made contact with Pedro in 2017. Christophe introduced himself to Pedro and shared with him about his collection of Porsche 928s and his specific interest in excellent early examples. I'm sure they got on well talking about the most historically interesting cars that Porsche produced, as Porschephiles do, closely followed by an appropriate segue to the Geneva Show Car. Pedro expressed how his preservation mindset didn't fit well with how he preferred to use and drive his Porsches. He said that he immediately knew from talking with Christophe that the car would be respected in his hands. It was mutually agreed that Christophe would become next steward of the show car, and deal was made for an undisclosed sum. If you would allow me to venture an educated guess, I would say it was nothing short of six figures.
With it back home in Germany, the show car made another debut at the entrance to the Porsche Museum for an excellent photo op. And now its nested comfortably in Christophe's collection where it remains in suspended animation. Although it neither looks like the polished show car it once was nor is it running or roadworthy, it still possesses all the right bones and bold soul of a runway model. Christophe is considering both options to preserve its entire history from Stuttgart through Portugal, or to restore it back to show car slash werks car status circa '77-78. I understand this thought process can be very complex because I've been through it several times before. You really have to patient and wait for the car to speak to you. Once it does, you need to listen. And while it tells its story, you apply weight to and find the right balance of it all.
This car has spoken to me for many years - as the legend, as the myth, and as it was rediscovered. It continues to speak me to this day. Let's not concern ourselves with it may have been Ferry's executive car, as interesting as that would be. Never mind that it was also in Frankfurt. The answer is very clear in my mind. It is the Geneva Show Car! It can only be the Geneva Show Car. What is most essential here is this car was there for the beginning of it all, for the first public debut of the Porsche 928. It represented Porsche's path to the future and paved the way for so many people including myself to be inspired by Porsche and the new 928.
Word on the street from Christophe is he may get Porsche Classic involved with the car. This would be a most excellent choice. The future looks bright for this old girl, and it certainly will be exciting to see the next chapter unfold for the legendary Geneva Show Car!
- Written by Jim Doerr