This resource is designed to help understand the serial number of your early 928, and determine it's production number.
First, there are a couple things you need to know:
United States/Canada (US) and Rest of World (RoW) vehicle identification numbers (VIN) were parallel, meaning their serial number (S/N) sequences were separate. Porsche 928 VIN decoder here.
Model/Year 1978 (MY78) is unique to all others because for three extra months RoW 928's were built before US production started (RoW - May 1977 and US - August 1977)
The earliest VIN starts at S/N 0011 (both RoW & US), the first 10 numbers were not used.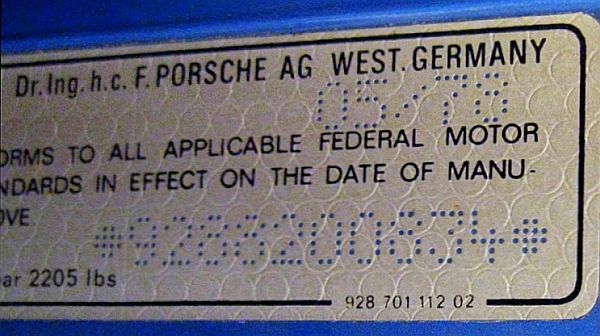 MY78 production total
3830 units, per Master VIN thread on Rennlist
RoW - 2636 units (largest VIN 9288102646)
US/Canada - 1129 units (largest VIN 9288201139)
Japan - 65 units (largest VIN 9288209575, started at 9510)
---
Serial numbers
Here are two 928's with the same S/N 0016. How's that possible? Parallel serial numbers.
One is a RoW and the other is US. The difference is in their VIN - 9288100016 RoW & 9288200016 US
( '1' vs. '2' RoW-US modifier, respectively)
Regarding their build date, check this out:
RoW 0016 was built in February 1977, US 0016 was built in August 1977.
Definitely siblings but built six month apart!
As an aside, RoW 0016 was imported into the United States and US 0016 was imported into Finland!
Production numbers
Since RoW & US 928s were built at the same time and at different rates, a production number can be difficult to calculate. Good news is Porsche gave us that information in two places on the 928.
Under the glove box there may be a piece of tape with a 4-digit marking (assuming the piece of tape hasn't been removed)
On the inside tail of the rear hatch under the interior trim there will be a 4-digit stamping
Build dates
US shows a build date on the door jamb VIN sticker, but not always. RoW does not show a build date so they require more information to determine.