VDO 260kph speedometer gauge face, 78-79 RoW
$125.00
Speedometer gauge face by VDO, metric 260kph, RoW 'Euro' Porsche.
Very good condition. Very minor blemishes, orange is slightly faded.
Correct for other Porsche of similar vintage.
Never available separately from Porsche or VDO.
1 in stock
Related Products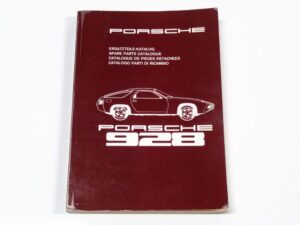 Porsche 928 spare parts catalog, 1977
THE original 928 spare parts catalog, published in February 1977 before Porsche microfiche & PET.
The parts diagrams are outstanding! Original option codes and part numbers.
German, English, French, Italian languages. 330 pages. Measures 8 1/2″ x 11 1/2″
Excellent condition, tight binding, very minor wear on jacket.
This is extremely rare and an amazing piece of Porsche 928 history!
$

450.00