Porsche hood badge emblem, 90155921020
$250.00
Vintage Porsche crest hood badge emblem, 90155921020. Stamping by AR.
Excellent original condition. New rubber seal and nuts included.
Correct for 80's 911 Carrera, 911 SC, 924, 944, 928, 930 Turbo, 931.
Porsche P/N 90155921020, 7L5853611B, 99959142303
1 in stock
You may also like
Porsche crest hood emblem, NEW, 90155921020
NOS 'Red Bar' Porsche crest hood badge emblem, 90155921020. Stamping by REU. Mfg date 10/87.
NEW, near excellent condition. Some blemishes from years of storage. New rubber seal and nuts included.
Correct for mid-80's thru mid 90's 911 Carrera, 924, 928, 930 Turbo, 931, 944, 951, 964. 968.
Porsche P/N 90155921020, 7L5853611B, 99959142303
$

300.00
Sale!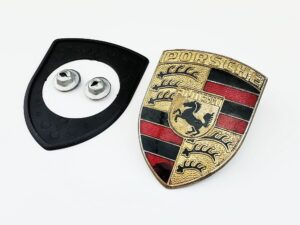 Porsche hood badge emblem, 901
Vintage Porsche crest hood badge emblem, 901. Stamping by AR.
Very good original condition. New rubber seal and nuts included.
Correct for late 70's early 80's 911 Carrera, 911 SC, 924, 944, 928, 930 Turbo, 931.
Porsche P/N 90155921020, 7L5853611B, 99959142303
$

150.00
Related Products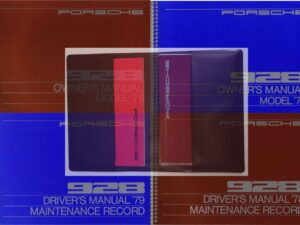 Porsche 928 owners-drivers manual, NEW, 1978 or 1979
Porsche 928 owner's manual (US/Canada) or driver's manual (UK/RoW), 78 or 79. Printed in English.
NEW, Genuine Porsche. Modern reprint, period-correct publishing date.
Reproduction maroon jacket cover free with purchase.
Porsche P/N WKD-467-621, WKD-467-620, WKD-468-321, WKD-468-320, 460420
Note: The driver's manual is great option for 'Euro' owners who prefer English.
$

150.00