Porsche 928 dealer brochure set, 77-78
$100.00
Porsche 928 dealer showroom brochures for model/year 1978. Set of 3.
Blue cover was the first used in '77.
Silver 'phone dial' cover thru '78.
Red 'Geneva show car' cover shows the complete Porsche model line-up for '78.
Technical data 1978 insert included. Each measures 10″ x 11″
Condition varies from very good to fair. Silver 'phone dial' brochure has a separated binding (see pic).
Great vintage set of Porsche 928 brochures with excellent photos and info.
Out of stock
Related Products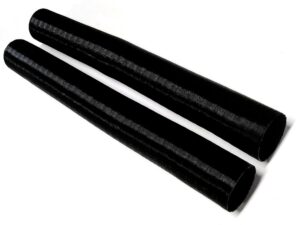 Air intake inlet tube set, NEW, 78-82
Early-type cold air intake inlet tubes, 78-82. Set of 2.
NEW, custom-made reproduction. Cut to correct length & vent hole added for timing belt cover.
Rubber sleeves not included. Reuse your original sleeves for best fit.
NLA from Porsche P/N 92811027200 (ref 92811027204)
$

125.00