Headlight retainer trim ring set, NEW, 78-86 US
$275.00
Retaining rings for 7″ sealed beam headlight, 78-86 US. Set of 2. Made by Hella.
NEW, NOS, excellent condition.
Also fits Porsche 911 SC Carrera, 912, 930 Turbo.
Compare with Porsche P/N 90163110203 (ref 90163110206)
1 in stock
You may also like
Sale!
Bosch 7″ H4 headlight set, 78-only US
Early-78 type headlamp headlight housings with Bosch 7″ H4 lenses. Set of 2.
Uses headlamp leveling like RoW 'Euros', and has chrome rings without beam alignment holes.
Excellent condition. New lenses and bulbs, used housings and chrome rings. Mounting hardware included.
RARE and special set!
Early-type is NLA from Porsche P/N 92863111300 (ref 92863111301), 92875032702 (ref 92875032703), 90163110203 (ref 90163110206)
$

425.00
Related Products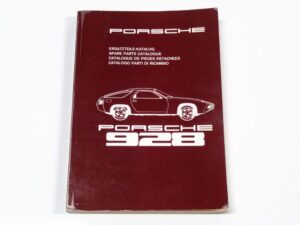 Porsche 928 spare parts catalog, 1977
THE original 928 spare parts catalog, published in February 1977 before Porsche microfiche & PET.
The parts diagrams are outstanding! Original option codes and part numbers.
German, English, French, Italian languages. 330 pages. Measures 8 1/2″ x 11 1/2″
Excellent condition, tight binding, very minor wear on jacket.
This is extremely rare and an amazing piece of Porsche 928 history!
$

450.00