You cannot add "Oil breather vent hose w/internal metal tube, 78-79" to the cart because the product is out of stock.
Instrument panel offset spacer, gauge cluster, All 928
$35.00
Offset spacer mounting bracket for instrument panel gauge cluster to 'pod' binnacle, all 928.
Very good condition.
NLA, never available separately from Porsche.
3 in stock
You may also like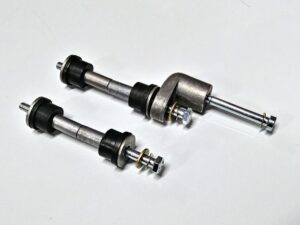 Gauge cluster & 'pod' installation set, All 928
Gauge cluster & 'pod' installation hardware, all 928. Set of 13 pieces.
Very good condition. New hardware included.
For mounting instrument panel to pod binnacle to steering column.
NLA, never available from Porsche (ref 92855204902)
$

125.00
Related Products
Porsche CR radio tuner, Type DE, 78-82
Porsche CR cassette radio tuner module, Type DE, 78-82.
Very good condition, tested and working.
Made by Blaupunkt. Also works for Porsche 911 Carrera, 930 Turbo, and same type Bamberg or Heidelberg 'blue dot'.
NLA from Porsche P/N 92864512101
$

200.00