View cart
"Andreas Hentrich Porsche calendar, 1980, woodcut prints" has been added to your cart.
Fuel tank strainer screen w/36mm fitting, NEW, early 78-only
$150.00
36mm gas tank fuel strainer screen, early 78 up to US VIN 9288200053 & RoW VIN 9288101287.
NEW, custom-made reproduction. Rubber seal included.
Very early 78 used a 36mm threaded sleeve, please check your 928 before ordering.
Note: This product is a custom modified P/N 92820108104, not NOS.
NLA from Porsche P/N 92820108103 (ref 37mm 92820108104), 92820118702
2 in stock
Related Products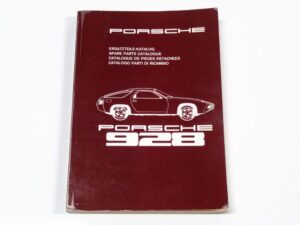 Porsche 928 spare parts catalog, 1977
THE original 928 spare parts catalog, published in February 1977 before Porsche microfiche & PET.
The parts diagrams are outstanding! Original option codes and part numbers.
German, English, French, Italian languages. 330 pages. Measures 8 1/2″ x 11 1/2″
Excellent condition, tight binding, very minor wear on jacket.
This is extremely rare and an amazing piece of Porsche 928 history!
$

450.00