View cart
"Left tail light housing, NEW, 78-86" has been added to your cart.
Fog & auxiliary light lens set, NEW, 78-86 RoW
$425.00
'Euro' fog light & high-beam aux glass lenses, 78-86 RoW. Set of 4, left & right.
NEW, excellent condition.
Porsche P/N 92863192700 (left aux 1305620383…384), 92863192800 (right aux 1305620385…386), 92863192500 (left fog 1305620379…380), 92863192600 (right fog 1305620381…382)
2 in stock
You may also like
Sale!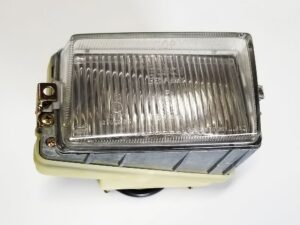 Related Products
Sale!
Porsche 928 dealer brochure set, 77-78
Porsche 928 dealer showroom brochures for model/year 1978. Set of 3.
Blue cover was the first used in '77.
Silver 'phone dial' cover thru '78.
Red 'Geneva show car' cover shows the complete Porsche model line-up for '78.
Technical data 1978 insert included. Each measures 10″ x 11″
Condition varies from very good to fair. Silver 'phone dial' brochure has a separated binding (see pic).
Great vintage set of Porsche 928 brochures with excellent photos and info.
$

125.00